A living example of efficiency
Energy efficiency is a real commitment for LuxConnect. The most significant example is LuxConnect's Data Center DC2, based in Bissen. DC2 constitutes a major step-up in our "Low-to-No-Footprint" energy sourcing policy. There, an integrated energy concept allows the production of cold based on the exceeded heat generated by the Kiowatt trigeneration site.
Kiowatt – resulting from the union of LuxEnergie and Groupe François – has been active since October 2013 in the production and distribution of energy from installations using biomass and the production of pellets. This energy efficiency innovation is at the heart of the installation because, using wood waste, it simultaneously produces heat and electrical energy.
The cogeneration plant, located on the other side of the road, burns wood waste (from forests, furniture, industry etc.) to produce electrical energy.
The wood is transported to a boiler where 4 to 5 tonnes are burned per hour. The combustion heat causes the water contained in the walls of the boiler to evaporate. The flue gases are used to superheat the steam to 420° C.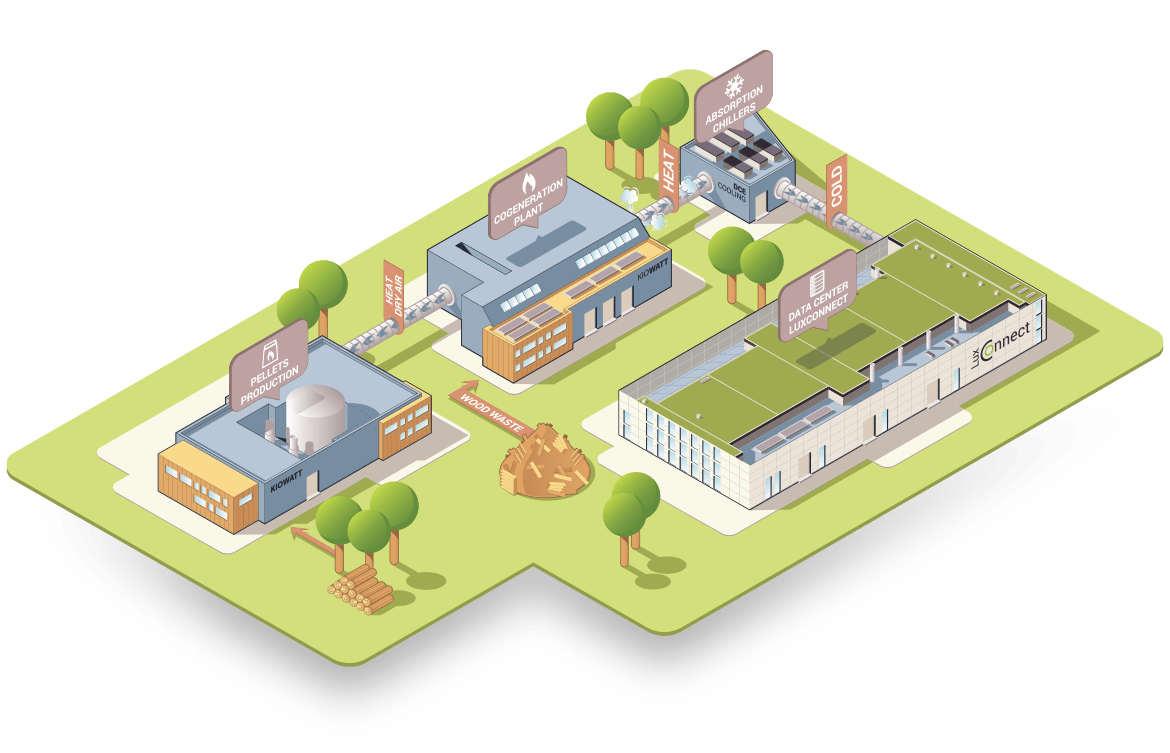 The steam produced is used to turn the turbine, which produces electricity that is fed into the public grid. The steam is then transferred via a condenser to a secondary network, where the remaining energy is involved in the production of pellets, cooling the Data Center and powering an urban heating network.
As a result, different forms of energy are produced by the cogeneration and each of them enters the LuxConnect production process, reducing Luxembourg's total CO2 emissions by an estimated 27,000 metric tonnes / year.
The ELECTRICITY generated is injected into the power grid of the business area and the public network. It covers the needs of 6,000 households.
The HEAT generated by the steam turbine, normally released into the atmosphere, is used as follows:
The use of the heat produced by burning wood waste helps to qualify the Data Center as the first green Data Center in the world.
If you count the production of electricity, heat, cold and pellets, Kiowatt could even be described as quadri-generation site. Through its social, economic and ecological components, this project greatly benefits both people and the ecological environment. Kiowatt marks a major step in Luxembourg's energy transition.