Luxembourg data center Operator LuxConnect S.A. received the Data Centers Community Impact Award at the Data Center Awards 2016 ceremony that took place on 7th June, 2016 in Monaco in advance of the Datacloud Europe conference in which LuxConnect will be exhibiting. The award rewards operators who made a positive community contribution.
The judges were convinced by LuxConnect's innovative approach towards cooling at the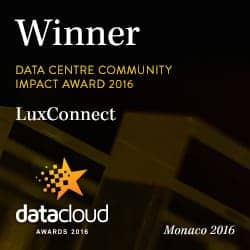 company's DC2 data center in Bissen (Luxembourg). The chilled water needed for the data center is produced with excess heat generated by an adjacent wood pellet manufacturing plant (KioWatt) that runs on biomass sourced from locally produced waste wood. Hence, the cooling production is 100% CO2 emission free. In addition, the Kiowatt plant provides hot water for heating to the local area and inputs power into the local grid which contributes to powering the data center.
Roger Lampach, CEO of LuxConnect commented: "Through the collaboration with KioWatt, we could develop an innovative zero emission concept for the cooling of our data center and create synergies with a local partner. LuxConnect is proud that these efforts have been rewarded by the Data Centers Community Impact Award."
For more information, please visit: Kilowatt – A living example of efficiency